What are the suitable sizes for cornice boxes(also called curtain box)?
Is it a must-have for window covering installations?
If you have tons of questions for cornice boxes, you can find the answers down below!
▶︎ What is a cornice window box?
▶︎ Types of cornice boxes?
▶︎ Recommended sizes for a cornice box?
▶︎ Things you must know before installing cornice boxes!
▶︎ Seven "whys" you might not need a cornice box.
---
▶︎What is a window cornice box/curtain box?
As known as curtain box. A window cornice box is a space reserved by wooden works on the top of windows. It is actually more a cover than a box, as its function is to hide headrails, tracks or wires in it. The outlook thus can be neat and beautiful.
▶︎How many kinds of cornice boxes/curtain boxes?
There are basically three kinds of cornice boxes in the market: Add-on, Embedded, Half-embedded.

1. Add-on Type (Cover-up Type)
A wooden work resembles a cover above windows. It is more like a traditional method for it sticks out of the wall and has no function of decorating and improving the overall indoor aesthetics but hiding headrails and tracks. Therefore, it becomes less popular in recent years.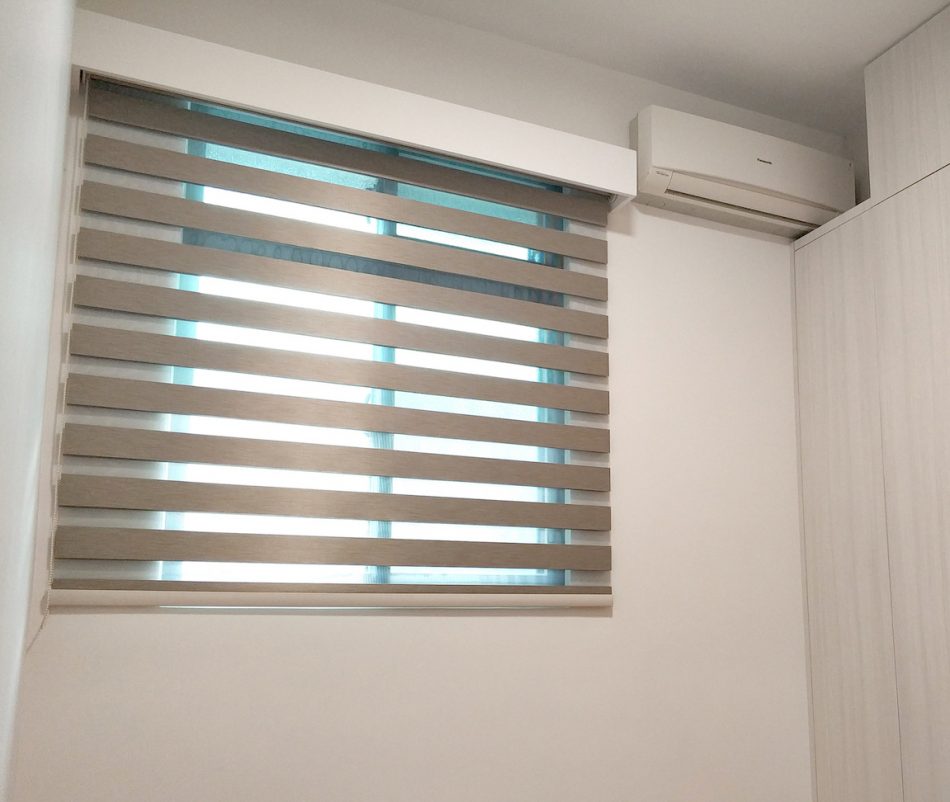 2. Embedded Type(Built-in Type)
The ceilings are not fully built, so that reserving a grooved space near windows is allowed. It's a brilliant way to make it look like blinds/shades are embedded in the ceilings. Usually, indirect lighting can be found along with this type to enhance home atmosphere as a whole.
However, the ceilings will be hence lowered a little bit, so that the space or floor must have enough height to install "embedded type" of cornice box to keep the feeling of visual spaciousness.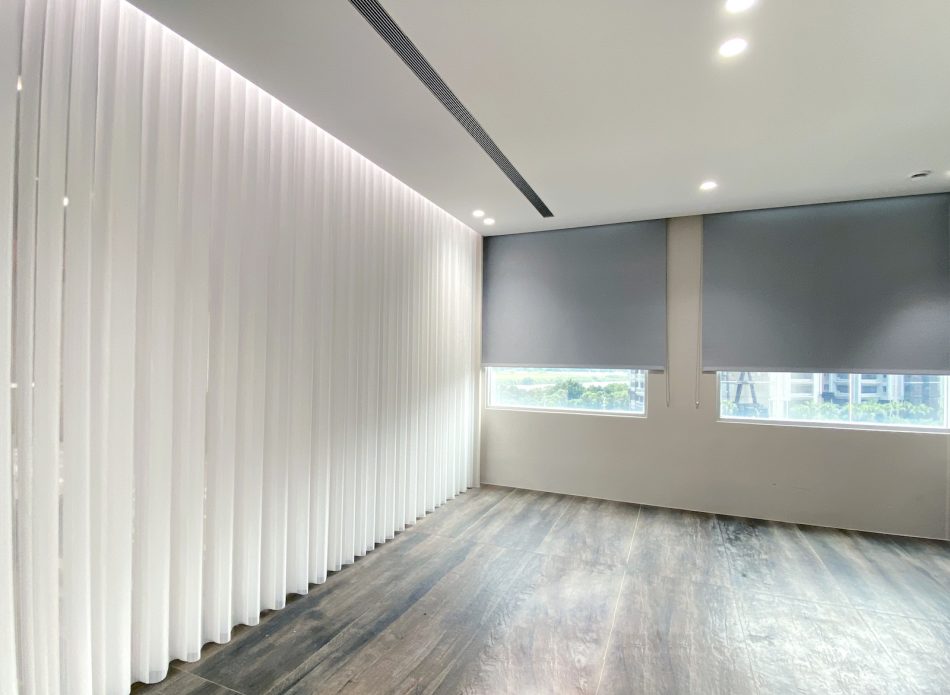 3. Half-embedded type
A cornice box extended from the ceilings downward combines the encased-beam design. The wires, headrails and tracks all can be hidden in the cornice boxes for the clean and cozy outlooks.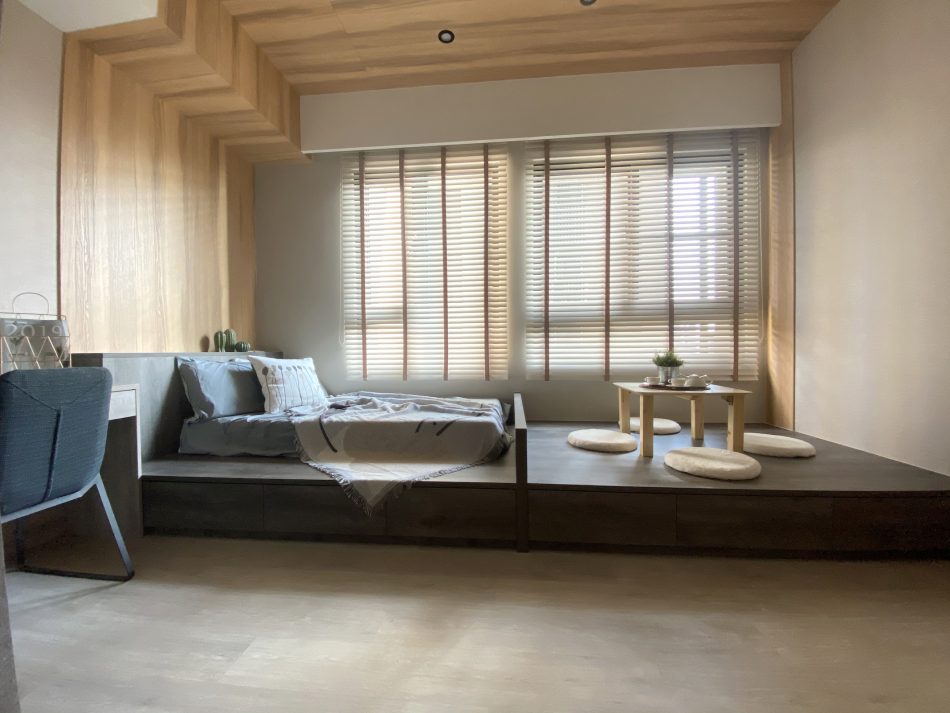 ▶︎Recommendations for the size of cornice box/curtain box?
Every shop or brand has its own way of descriptions or sayings about sizes.
Please notice the vocabulary or terms they use, because they might cause confusions!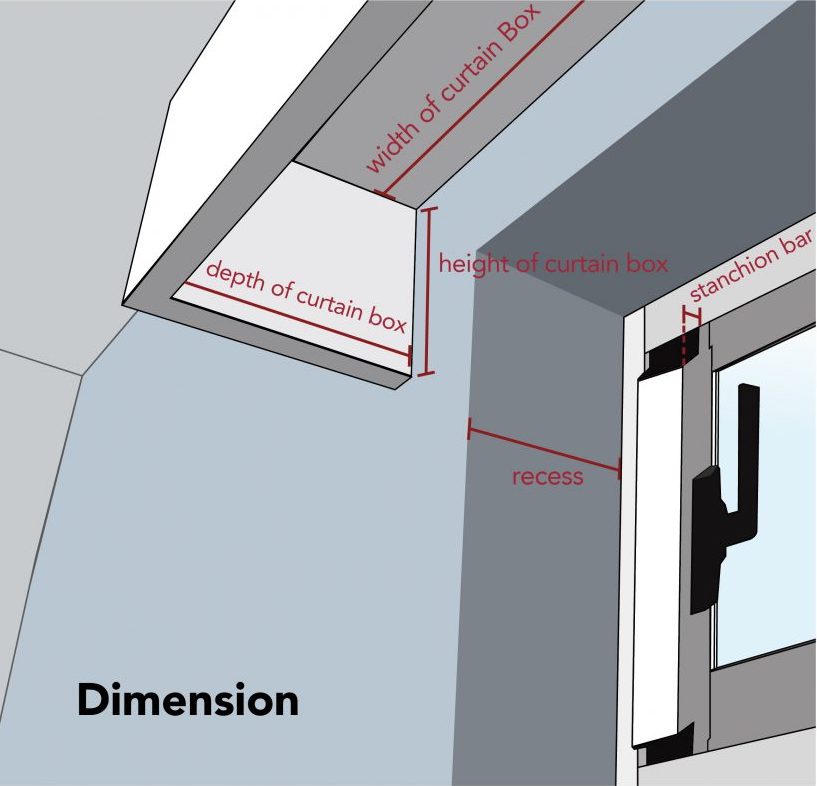 ▷ Depth(One-layered blinds/ shade/ curtains)
Roller blinds/zebra blinds/venetian blinds/honeycomb shades: suggested depth reserved:12-15cm. All msbt blinds/ shades can fit in the suggested depth without leaving the space too narrow or cramped.
Curtains/sheers:More than 12cm reserved for one-layered pinch pleat / More than 16cm reserved for one-layered ripple fold. Please leave enough depth for cornice box for curtains/sheers so that it won't squeeze the ripples or pleats and damage the visual aesthetics.
Double-layered curtains/ sheers:Those who love rich layering, please contact us.
▷ Width
It is suggested to leave at least 15cm of width at both left and right sides of windows. If there is enough space, the width can be extended to the walls for consistent aesthetics!

Never, never align with window frames, especially for those space and environment or space decorated with "Add-On Cornice Boxes", cornice boxes have to be wider and bigger than windows.
Do not install the cornice frames and boards within the window frames and it would only create more limitations on the installation area.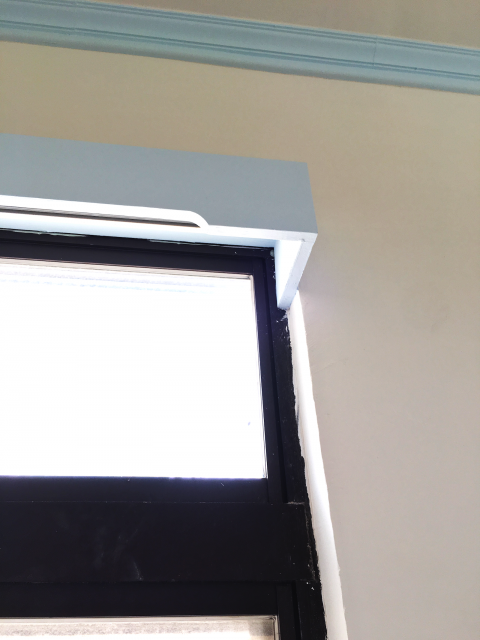 ▷ Height
It is suggested to leave at least 10cm of height for installation.The higher, the better coverage of headrail and parts.
Moreover, for designs and woodworks like encased-beam and openings, the function of concealing pipes and wires works better.
⚠️⚠️Attention! The suggested sizes above refer to the "Inner sizes" of cornice boxes
▶︎What do I need to know before install cornice boxes/curtain boxes?
1. Cornice boxes are constructed and installed by carpenters in advance, not by blind/ shades/ curtains's company!.
Even if motorized blinds/shades/curtains are not your current choices, but ask electricians to distribute circuits and leave wires in advance in the cornice box is suggested.(Leave at the corners close to the room is the best for wires can't be seen because of blind spots.)
2. Just in case the replacement of motorized blinds/shades/ curtains are considered in the future! If there's no power distribution in the cornice box, it wouldn't be a problem either.
Motorized blinds/ shades/ curtains with rechargeable-battery system or with simple-pull system are also available to choose from. Enjoy the convenience of intelligent life with ease!
3. Sizes have to be confirmed. If the space in the cornice box is not enough, the choices will be thus restricted. The worst case scenario could be unsuccessful installation.
It is recommended to consult window covering companies for suitable window covering items and corresponding cornice boxes sizes.
▶︎Cornice Boxes May Not Be Necessary!
If you are still not sure about installing cornice boxes or not, you could go through our seven reasons of "not install cornice boxes" first to help you decide!
1. The headrails of most blinds and shades are already retouched:

Whether it's the headrail of honeycomb shades, valance clip of venetian blinds, delicate type of headrail of roller blinds or double roller blinds, the designs are simple and elegant. The parts and headrails can be well-hidden in the cornice boxes.
.
2. Choices for curtain poles:

There are various kinds of curtain poles and exquisite accessories to go with curtains/ sheers. Hiding the beautiful styles of curtain poles in the cornice box would be a waste!.
3. Small-sized room:
If the room size is small, cornice boxes give the room a bit of feeling of oppression.
.
4. A fan of simple styles:
Abandoning cornice boxes can elevate feelings of freshness and adding more lightness to your life!
.
5. No size limitations imposed due to cornice boxes:

Unless the inner space of cornice boxes is big enough for all kind of window treatments, or the limited inner space would reduce the choices on replacing new blinds/ shades/ curtains.
.
6. Save money and avoid construction problems:

If your budget is not enough or there is no cornice boxes in the room in the first place; it is suggested to save money for other decorations, not on cornice boxes.
.
7. Regarding the synergistic effects of shading:

It only works for the combination of curtains/ sheers! The gaps between the upper part of curtains/ sheers and walls refract sunlight into indoor space. If you're after shading effects, cornice boxes can effectively block the light coming through the top of curtains/sheers.
Regarding roller blinds, double roller blinds, venetian blinds and honeycomb shades, as long as headrails are mounted on the wall or on the ceilings and there's enough space for outside-mount, the shading effects are almost the same as installing in cornice boxes.
.
🏷 Tips:For better shading effects on roller blinds, choose delicate type of upper headrail, which covers the roll with a metallic cover. (Applied in double roller blinds as well.) Or choose the advanced type: side tracks(Applied in roller blinds only.) is fine too.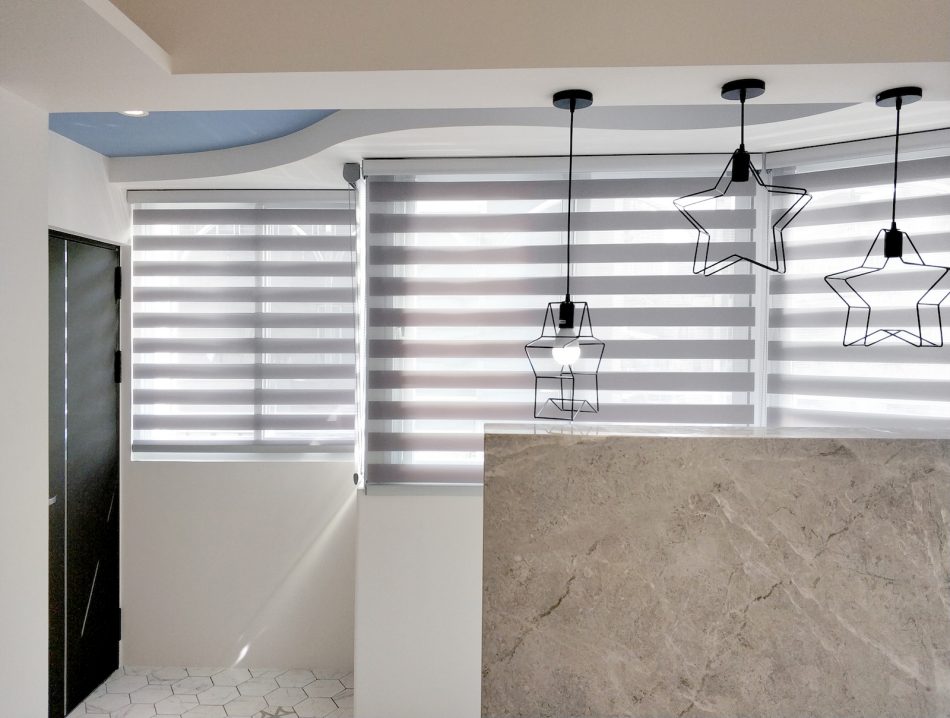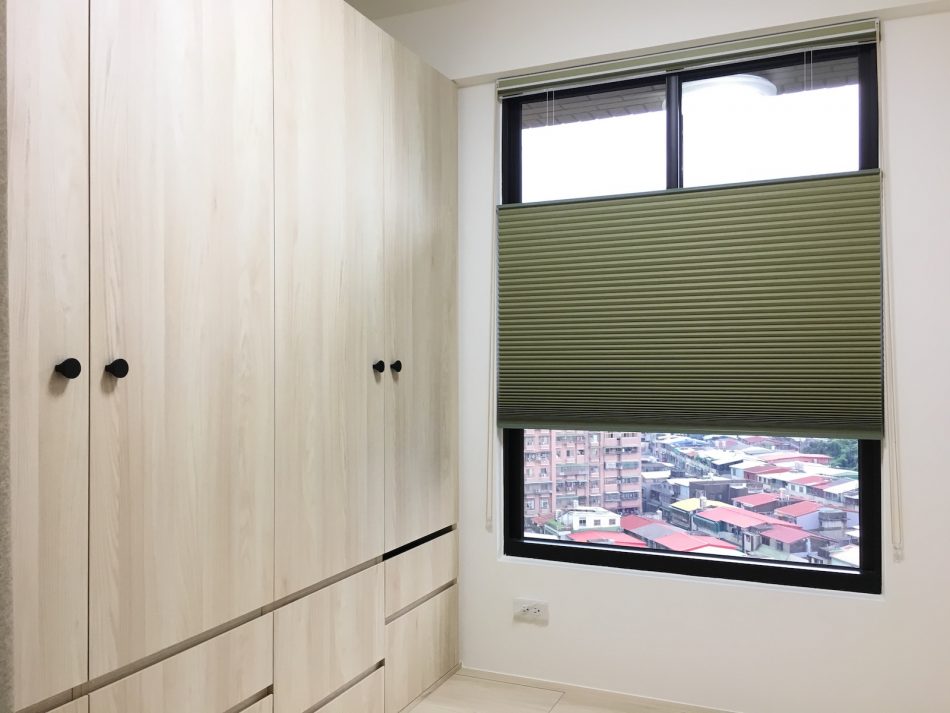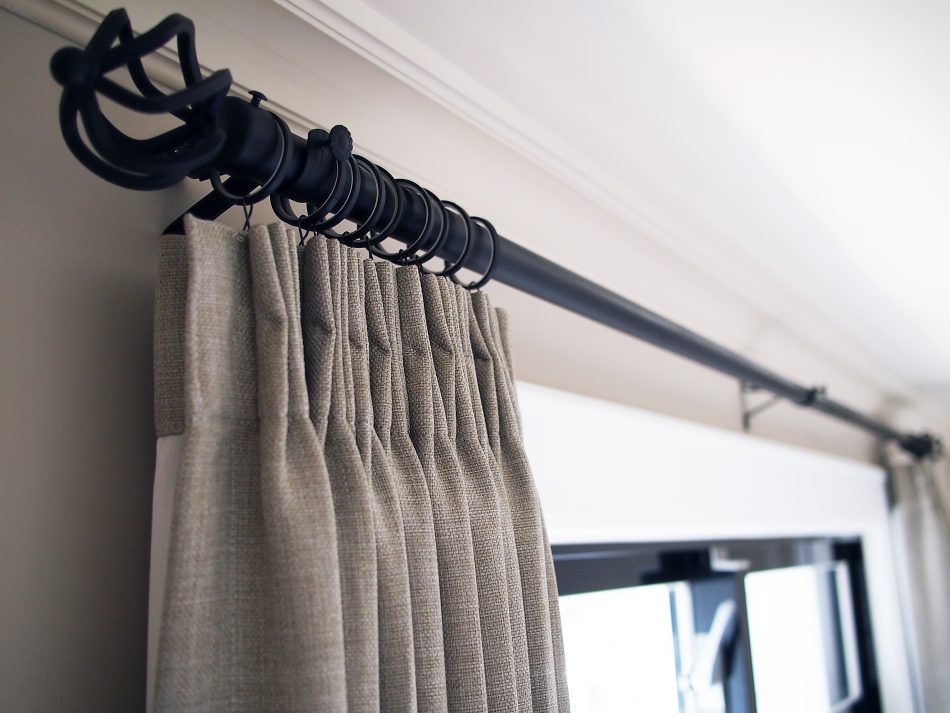 ▶︎Is there any situation that installing cornice boxes is a better choice?
If curtain poles are not your choices for curtains and sheers, it is recommended to add cornice boxes. The tracks and metallic parts can be hidden in the cornice box while drawing curtains. The space would be visually aesthetic and clean.
In conclusion, cornice boxes are not must-have for installing window treatments. You can decide upon your requirements and preferences!
If you still cannot make up your mind, you can consult MSBT customer service.
We will provide the best solutions for you.
---
【MSBT Maison Boutique】Your best assistant to customize your blinds!
We offer overseas delivery across the globe at consumers' expenses, please contact our english customer service for more details.
You also could enjoy our doorstep service at TAIWAN. Service area include: Taipei City/New Taipei City/Keelung/Taoyuan/Hsinchu/Miaoli/Taichung/Tainan/Kaohsiung/Pintung City. There is no area limitation on online shopping and home delivery.