Drapes and sheer are quite popular among window covering products.
Besides sizes and fabric patterns, there are more choices on sewing so that the outlooks of drapes can be custom-made.
We have collected the basic window covering vocabulary for you, ranging from styles, curtain boxes, decorative poles to operations of drapes.
Let's find out what they are talking about!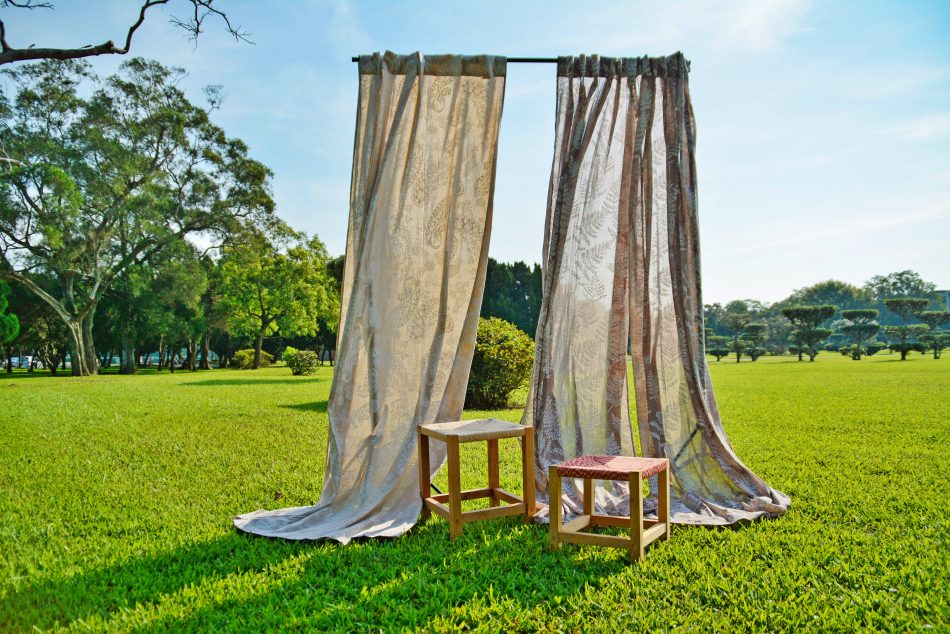 ---
▶︎Curtain Headers
Different curtain headers or installing methods creates different outlooks of curtains.
Pinch Pleat/ Ripple Fold/ Roman Shade/ Decorative Poles
We will introduce each one of them in details for you!
1. What is Pinch Pleat?
It is also called French Pleat, Triple Pleat, Wave Fold. It is the most common header among people nowadays.
Make three pleats as a unit. The gap between each unit is usually 10cm. Metal hooks are sewed behind the pleats. White aluminum track often are chosen to match with this header.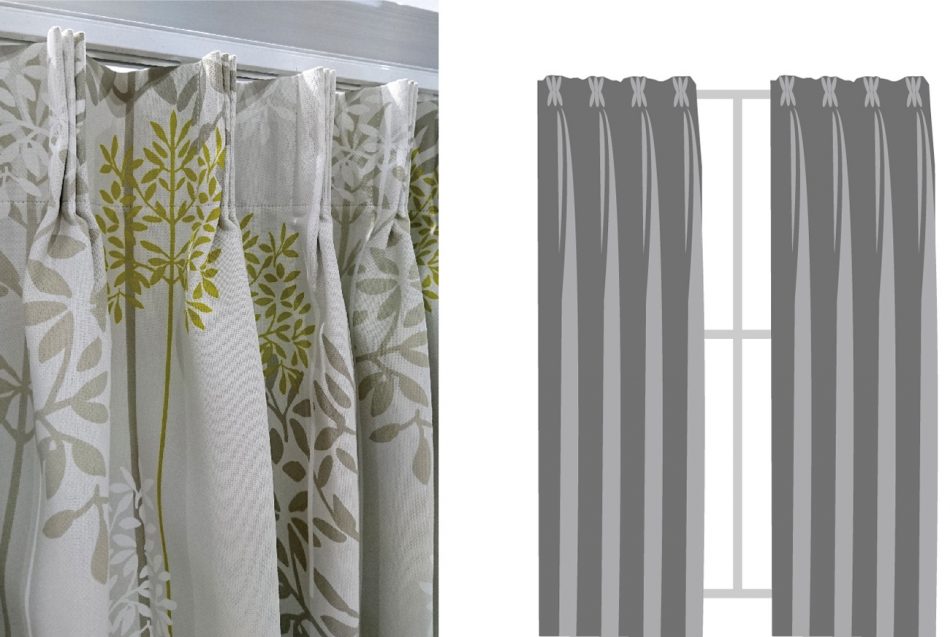 ❚ Single layer- Pinch Pleat ❚
Thickness of pleats: minimum 9cm
The depth of curtain box space: At least more than 12cm
❚ Double layers- Pinch Pleat ❚
For one piece of curtain and sheer:
The depth of curtain box space: At least more than 22cm

▲ A decorative curtain rod and rings can go with pinch pleat drapes.
.
2. What is Ripple Fold?
Ripple fold is also called tempo wave.
Depending on the sizes of ripples, ripple fold can be made into big ripples or small ripples.
It takes up more space than pinch pleats because of the ripples bulge the front and rear sides of the track.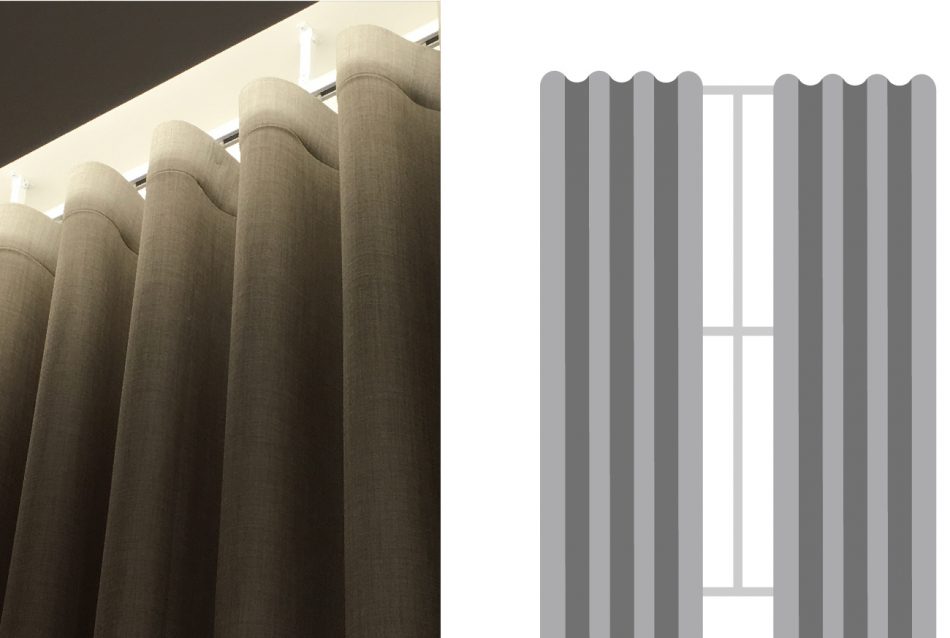 ❚ Single-layer ripple fold (big ripples) ❚
Gap betweens the hooks:8cm
The depth of curtain box space: Allow more than 16cm for the ripples to expand fully.
❚ Double layers ❚
If you wanted to install one curtain and one sheer, our suggestion is do a combination match.
The side close to the room (curtain): Ripple fold (tempo wave) is recommended.
The side close to the window (sheer): Pinch pleat is recommended.
Space or the depth of curtain box: 25cm is recommended.
It helps reduce the total thickness of the combination, so that it won't take up too much indoor space.

3. What is Roman Shade?
Roman shade was once popular in the past.
One piece of flat fabric which gradually folds as the strings are pulled.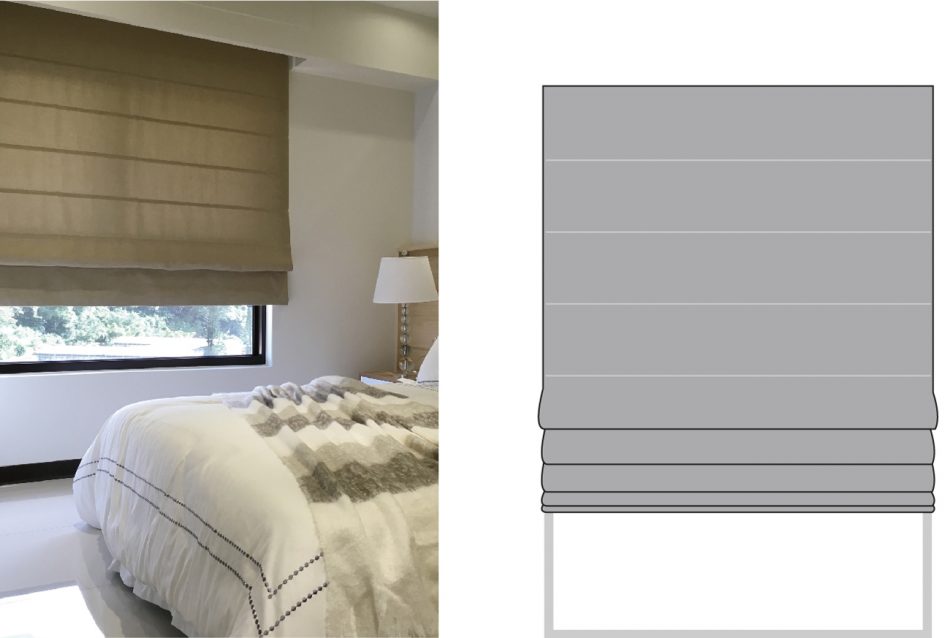 The soft fabrics in the catalogues of custom-made curtains essentially can be made into roman shades.
However, due to the high damage rates of the cords and plastic rings at the back of the shade, it becomes less popular among customers nowadays.

4. When to use Decorative Poles or Rods?

Besides using curtain box to decorate tracks and headers of curtains, decorative rods can also be applied if the space allows.
The materials of curtain rods is either wooden or metallic. Moreover, there is a double-rods choice for two-layered curtains!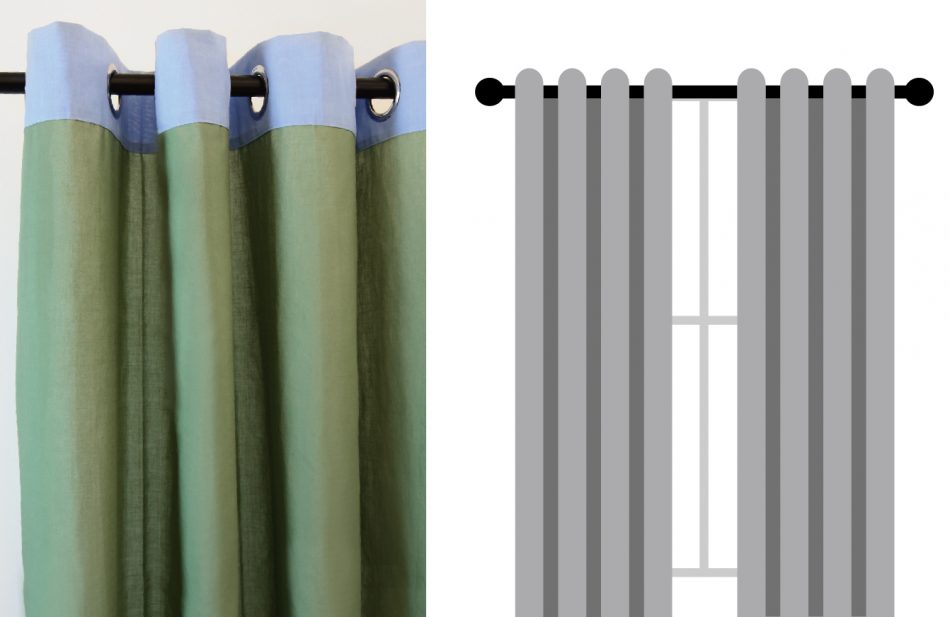 ❚ Decorative Poles Matches ❚

.


① Curtain Pole Only: Curtains headers with grommets/ rod pockets, back tabs or top tabs
>> Blouk-Single Bracket/Blouk-Double Brackets/Blouk-Ceiling Bracket/Buloo-Pole Bracket



② Clips + curtains: Can match with most curtains/ rod pockets, top tabs (should be removed) or back tabs
>> Zolun-Clips
.


③ With Rings:Can match with curtains with hooks./Back tabs with hook belts or back tabs
>> Zolun-Hooks
.


④ With finials at both ends:It is suggested to choose finials to decorate both ends of decorative poles.
>> Finial
❚ Notes ❚
① Limited length: For wider and heavier drapes, rods can be drooped and deformed.
② If windows are wider and two rods are joined together, there would be an extension bracket to support the joint in the middle and drawing left or right is thus hindered. Also, please pay attention to the installing position so that the operation can be smooth.
③ Different finials have different sizes. Please check the sizes before installing.
④ If pole brackets are used, no more finials are required.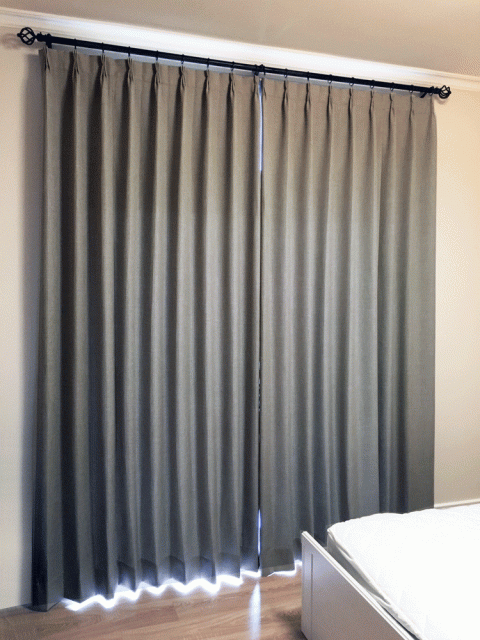 ---
▶︎How to choose operations?
According to personal space designs, habits and environments, we can choose different operation methods.
This article only introduces curtains made of soft fabrics.
If the installation site allows, increase the width of curtains to make it wider than the window. The wide open space feel will be affected if curtains was drew to the sides and covered some parts of the window.
1. Double Drapery (Pair)

It is the most common method of drawing that two pieces of curtains (left and right) are hung on one track.
❚ Cord ❚
Drapery draws towards left and right sides simultaneously when we pull the side strings.
❚ Cordless ❚
The good choice for home/ child safety: Draw curtains to each side by bare hands.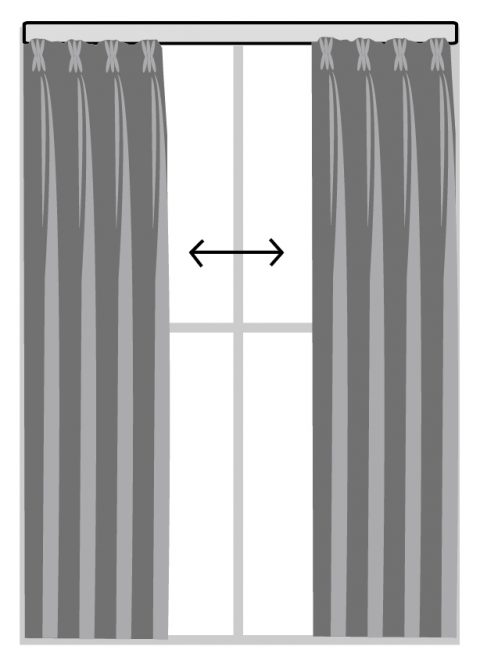 .
2. Single Curtain (Single Panel

)



One curtain on one track only. Curtains can only be drew in one way (left or right), and the other side can be completely clean and uncovered. Cordless system or motorized system can also be applied.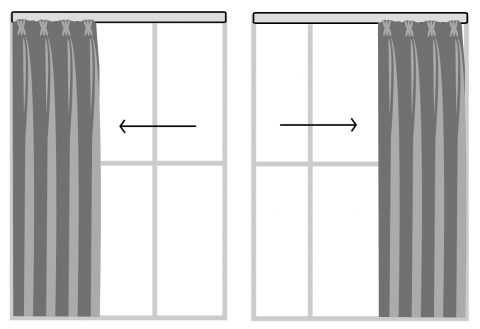 ---
▶︎ What is Curtain Box?
Also called window cornice box, curtain box is often seen in wood work and used to cover the metallic track on the top of the blind or curtain. However, decorative poles are not included, or the beautiful outlooks will be covered too.
As for popular blinds or shades like Roller Blind/Zebra Blind/Venetian Blind/Honeycomb Shade, they all have their own accessory systems to decorate headrails.
Therefore, curtain box is not necessary! The decision of installing curtain box really depends on personal aesthetic requirements.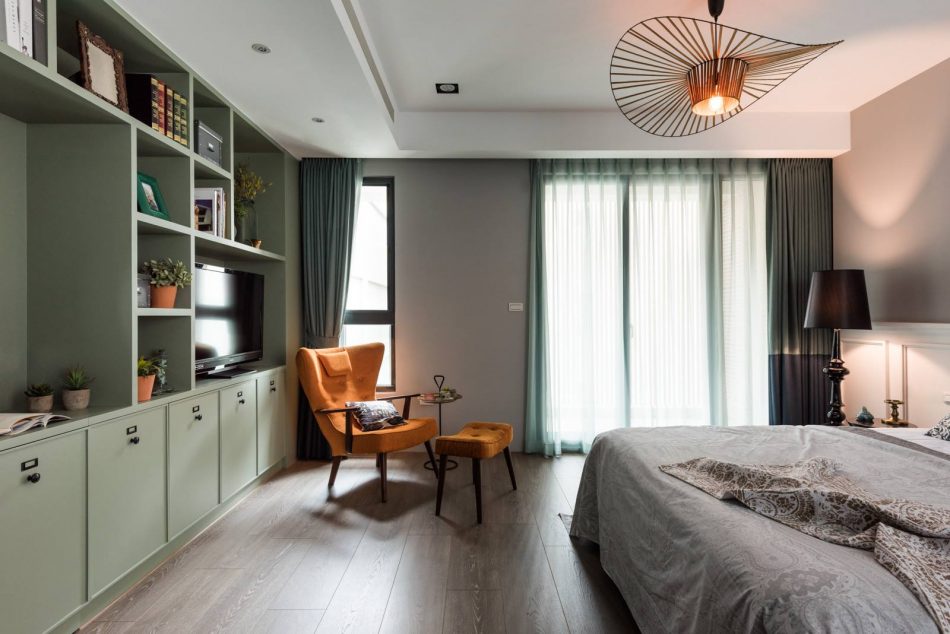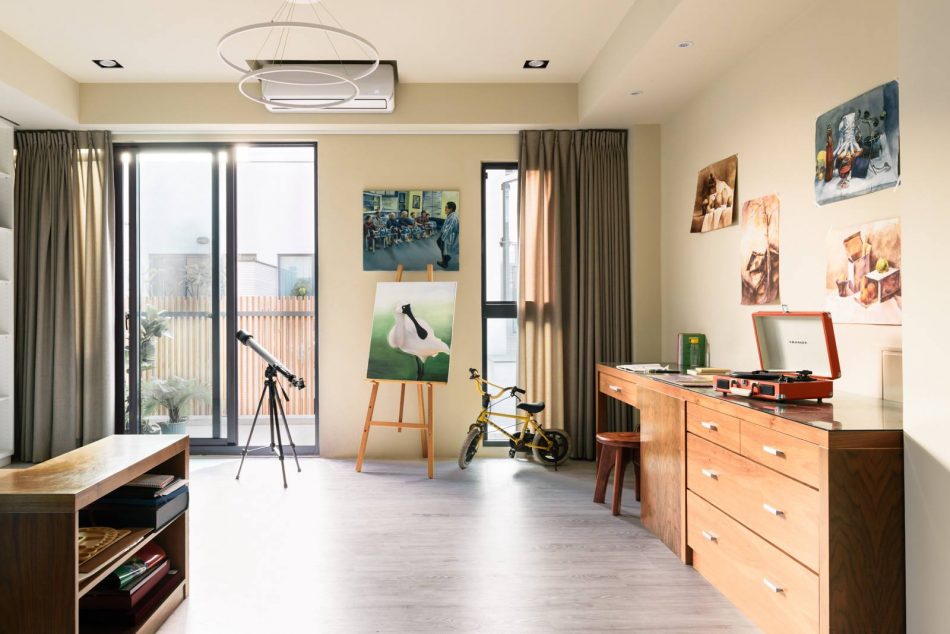 ❚ Vocabulary & Illustrations for window sizes ❚
Every store has its own sayings or usages for these terms, such as depth or thickness, and height or depth……These terms can easily cause confusions. Please pay attention to the vocabulary they use while consulting them.
🔎 Get more information about Window Cornice Box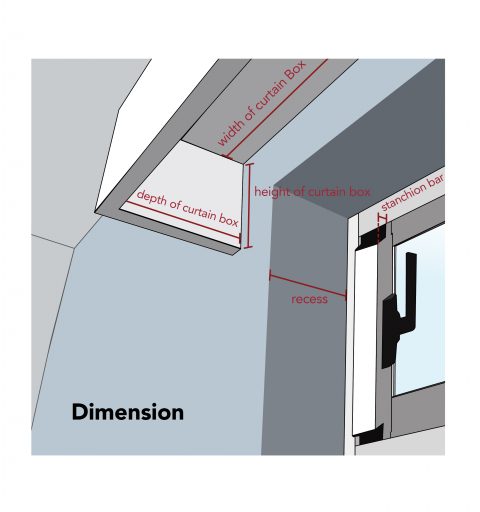 ---
【Your best assistant to customize your blind or shade- Maison Boutique】

We Offer International Delivery Across the Globe at MSBT.com
You could enjoy our doorstep service at TAIWAN. Service area: Taipei City, New Taipei City, Keelung, Taoyuan, Hsinchu, Miaoli, Taichung, Tainan, Kaohsiung, Pintung City. Online Orders are not limited. There will be international shippings fees for international orders.
▌English Official Website
▌Customer Service Email
▌Facebook
▌Instagram
▌LINE
E-commerce leading window covering brand- MSBT Maison Boutique seeks modern aesthetics for personalized space and provides professional customization services on roller blinds, zebra blinds, venetian blinds and honeycomb shades.