Portfolio Area|Taoyuan, Taiwan
Type of Blinds|Hanas Vertical Blinds, Vali Honeycomb Shades, Pimu Venetian Blinds Fauxwood and Custom-made Sheer
Interior Style|Modern style
❣️ Many thanks to Miss Ho from Zhongli Dist. for choosing MSBT blinds.
---
A luxurious mansion located on the high floor. Grandiose and simple aesthetics are the key factors.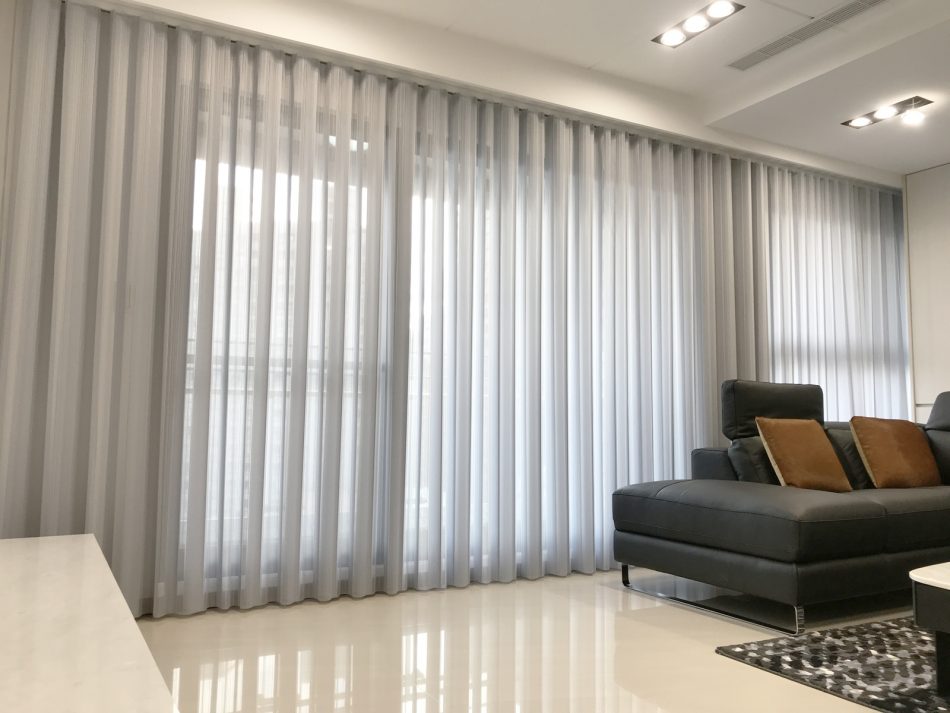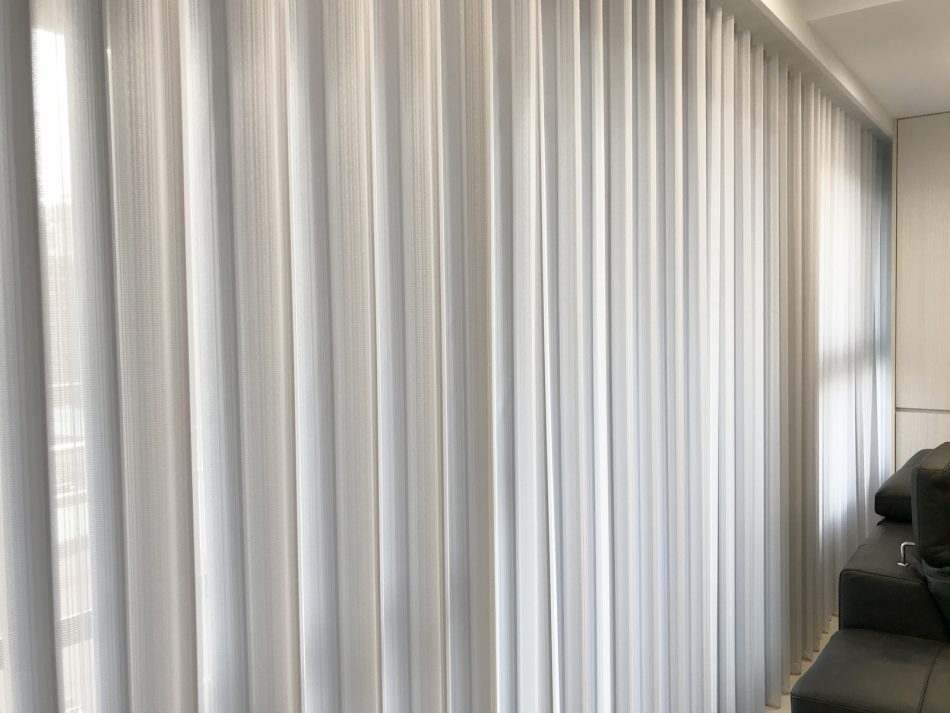 Vertical blind – best for French window/ living room
✔︎ Privacy
The combination of adjustable vanes and gauze offers the flexibility to decide the amount of light coming in the room without sacrificing privacy.
While moving vanes, the connections of yarn and mesh can hinder the space between the vanes.
✔︎ Soft and grandiose atmosphere
Vertical sheer blind is perfect for producing magnificent and grandiose atmosphere as well as providing shades with the movements of vanes.
Gauze provides elegant and soft atmosphere for those can wants relaxed and comfortable feelings at home.
.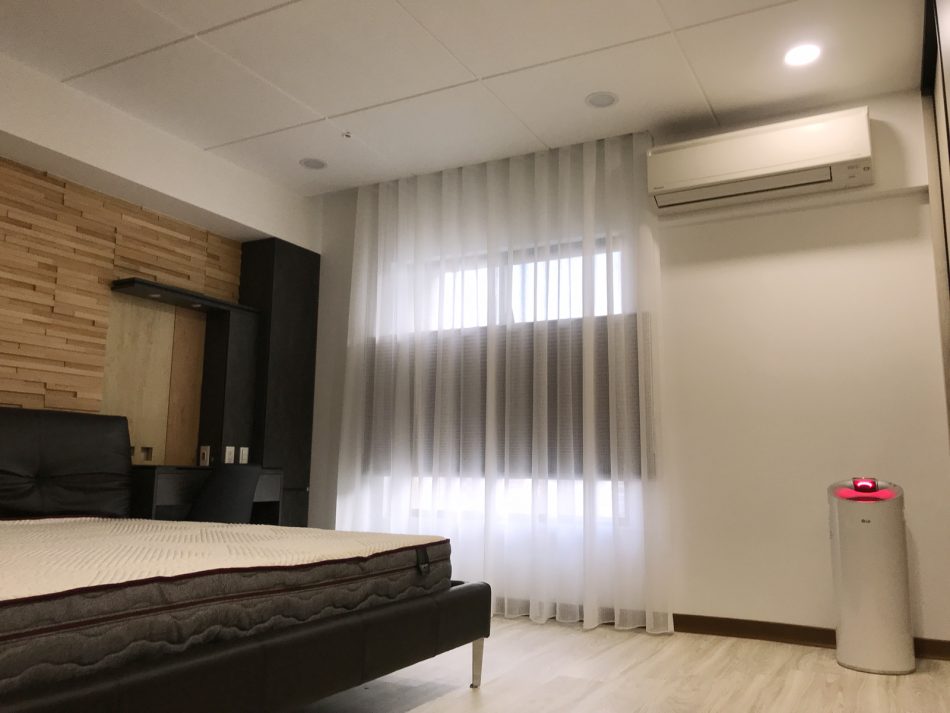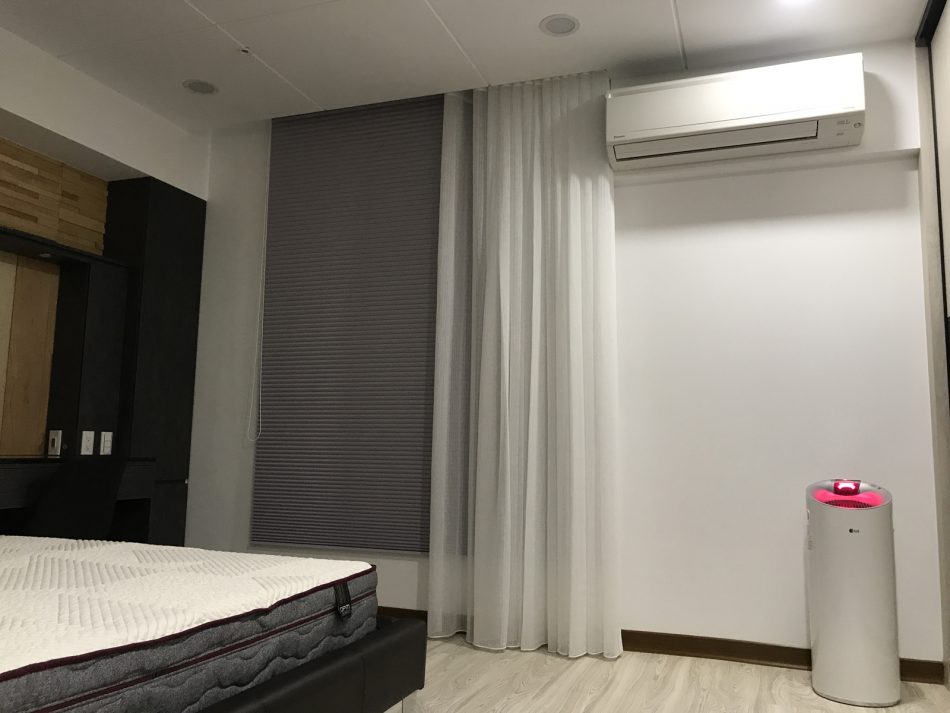 Black Cellular Shade with Sheer/Curtain – bedroom
Blackout cellular shade is paired with sheer/gauze for both practical and aesthetic purposes. Blackout cellular shade has multiple functions- keep light out, adjust daylight, insulate heat and maintain thermostatic.
✔︎ Insulate heat & thermostatic
With silver coating inlaid in the honeycomb shade, not only the highest shading effect is provided, but also keeping heat from entering the house.
The hollow structure of honeycomb shape has effective thermostatic insulation functions.
✔︎ Block daylight out
Draw the blackout cellular shade hidden behind the sheer when sound sleep is needed to achieve the flexibility of controlling light introduced in the bedroom.
Without losing the beauty and grandeur of the bedroom, sleeping quality can be enhanced by pulling down blackout cellular shades and closing sheer.
A perfect choice to keep daylight and heat out whenever is needed.
✔︎ Beauty & Decor
Sheers provides aesthetic purpose and natural light required in the bedroom.
Light color sheer soften tones of the bedroom and could make people feel more relaxed and comfortable in the bedroom.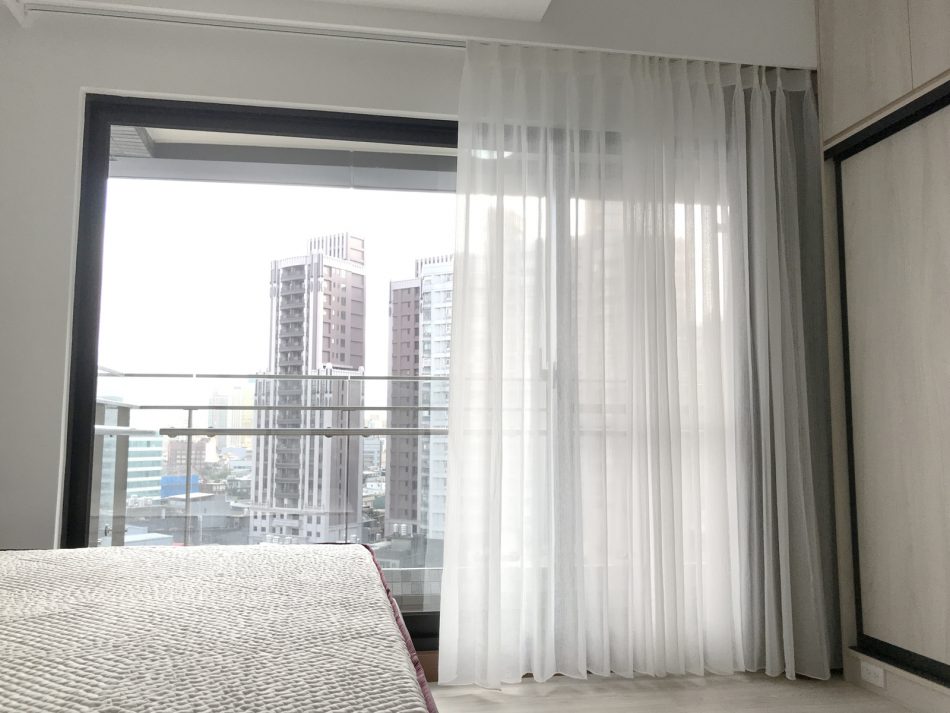 Pull up cellular shade and close the sheer/curtain
✔︎ Keep privacy& Asthetics
The combination of installing cellular shade and sheer/ curtain provides the freedom to choose to let in the amount of light and protect bedroom privacy as well.
The distance between other skyscrapers is so wide that overlooking the grand scenery from the bedroom without sacrificing privacy, elegance and grandeur is possible by installing custom-made curtain and sheer.
Pulling up the black cellular shade and closing the large sheer extending to the ground gives and amplifies a sense of space to the bedroom.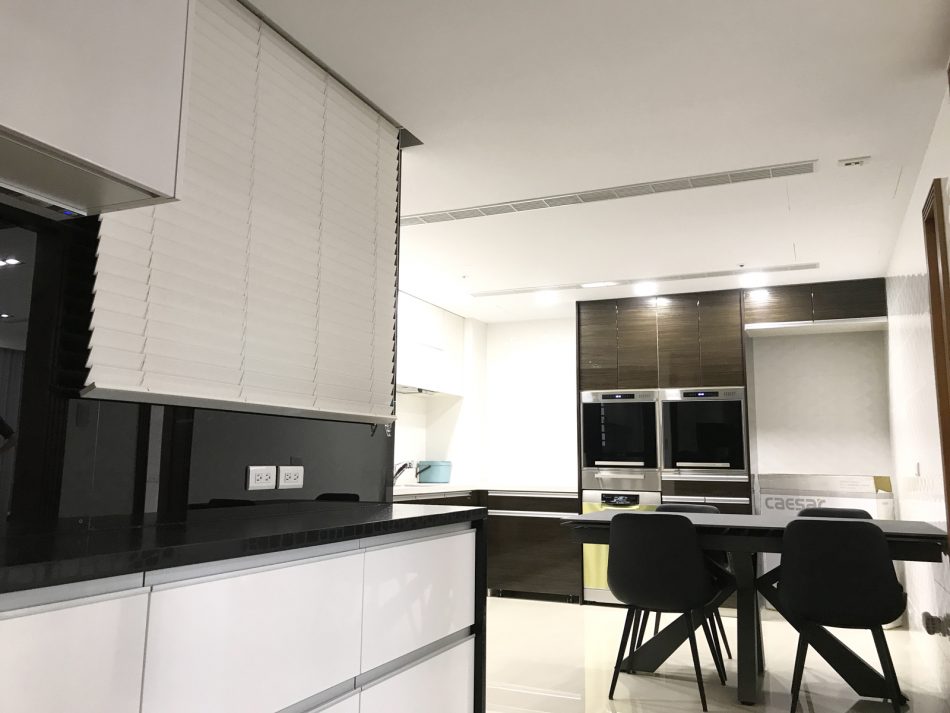 PVC venetian blind
Space like kitchen requires a more specific blind so that cleaning won't be a challenge.
The anti-splash PVC venetian blind is oil and fume proof, easy to clean when water or oil splash on the slat surface. By rotating slats to different angles, kitchen can be easily ventilated.
Water-resistance and easy-maintenance PVC venetian blind is suitable for stylish kitchen without yielding easy-cleaning. Dust can be easily wiped with a dry cloth.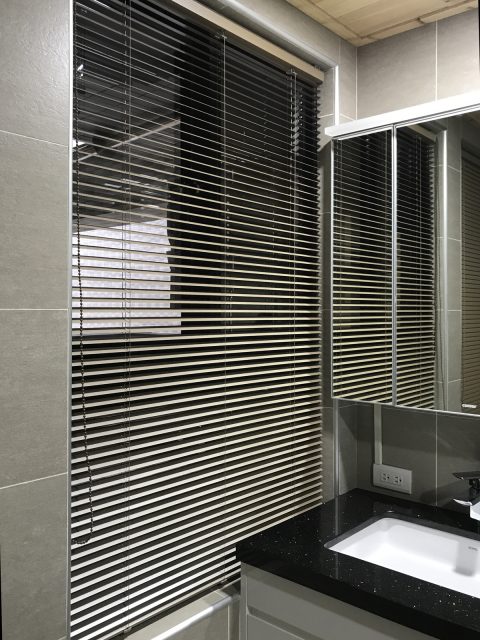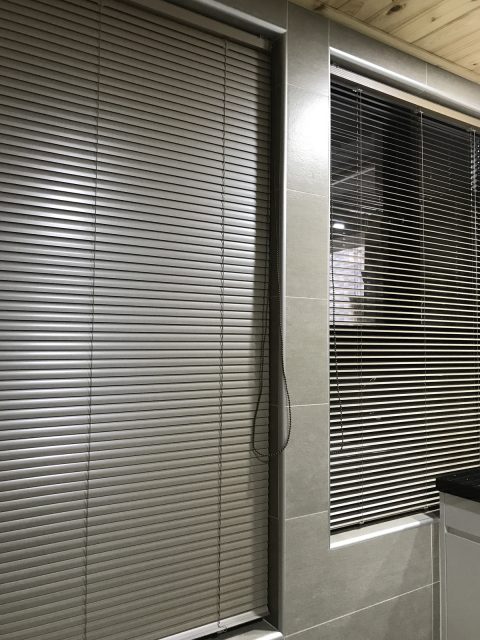 Aluminum venetian blind- best choice for bathroom
✔︎ Water-resistance
Aluminum venetian blind has water-resistance function without yielding aesthetic outlook. Best choice for space with high humidity. By choosing the same reckless low-key grey tone as the furring tiles to exhibit the delicate and high-end bathroom design.
---
▶︎ Hanas Vertical Sheer - Grey Blue
Customizable within W336cm × H280cm
Various shading and sunlight effects/Soft and romantic styles
▶︎ Vali Cellular Shade/ Honeycomb Shade - Gray Ridge
Customizable within W300cm × H360cm
Continuous cord loop/Top Down Bottom Up system(Shade stays in the middle)
▶︎ Custom-made curtain/sheer
A wide range of colors, styles and catalogues to choose from.
▶︎ Pimu Venetian Blind Fauxwood - White DVB14
Customizable within W45cm~270cm × H300cm
Water-proof PVC material/Fauxwood/Light-regulating and ventilation
▶︎ Lansin Aluminum Venetian Blinds 25mm - Pearly2523
Customizable within W50cm~270cm × H300cm
Many metallic coatings to choose from/With ball chain loop system
【MSBT Maison Boutique】Your best assistant to customize your blinds!
We offer overseas delivery across the globe at consumers' expenses, please contact our english customer service for more details.
You also could enjoy our doorstep service at TAIWAN. Service area include: Taipei City/New Taipei City/Keelung/Taoyuan/Hsinchu/Miaoli/Taichung/Tainan/Kaohsiung/Pintung City. There is no area limitation on online shopping and home delivery.