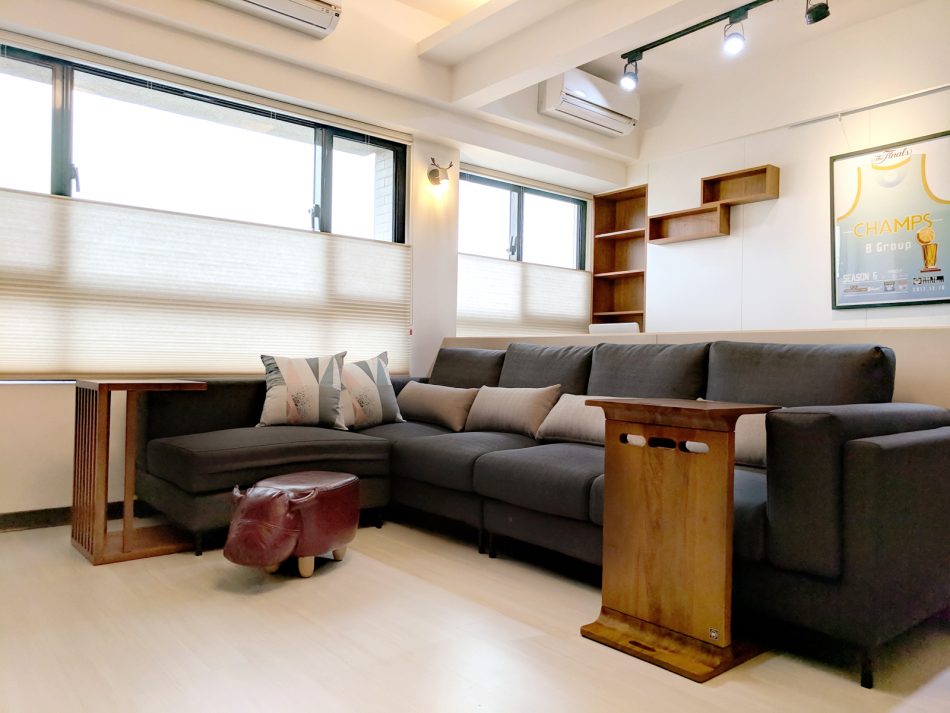 📍Top-Down Bottom-Up Honeycomb Shade/Cellular Shades
Install top-down bottom-up honeycomb shades for large daylighting windows, flexible operations make customized privacy and see the sky from inside possible.
Unlike traditional blinds or shades that can only operate from bottom up, with top-down bottom-up system, you can choose to fix shades in the middle area and the upper area can be exposed.
Daylight can penetrate through windows from upper area and you can look at the sky from staying indoors while keeping your privacy.
Top-down bottom up system allows customizing shading area for bespoke privacy or choose complete cover-up for more comfort and privacy.
The living room finishes with a few grey and light-colored cushions so that the overall visual effects elevates and the space becomes more delicate.
.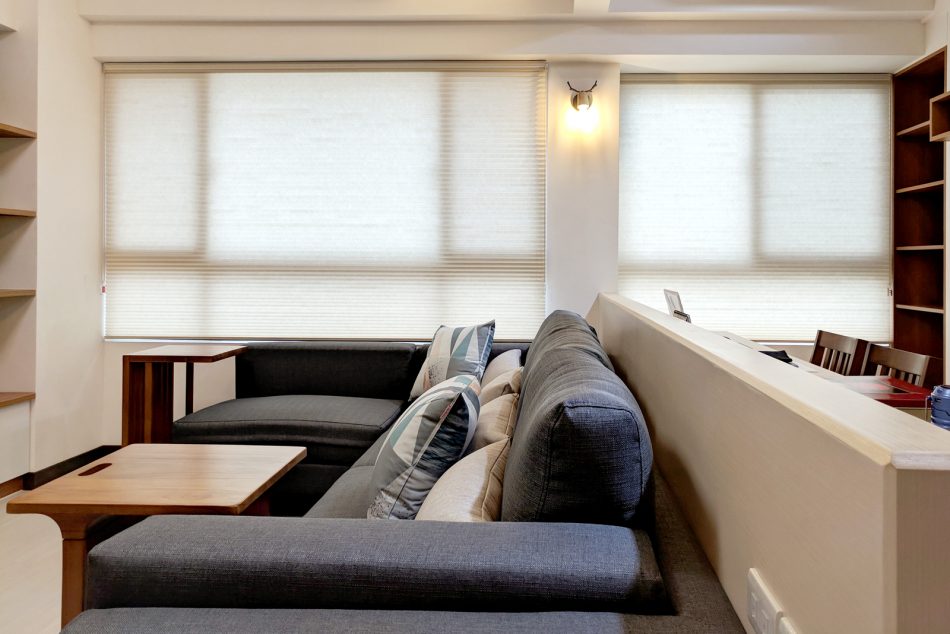 📍Benefits of cellular shades top down bottom up
✔︎ Heat insulation
The sides of honeycomb shade has an unique 3D structure: hexagon-shaped honeycomb construction with a hollow center.
The shades are thickened without adding weights; indoor temperature can effectively stay constant by producing heat insulation from the air mezzanines created by the shades to block the heat from outside.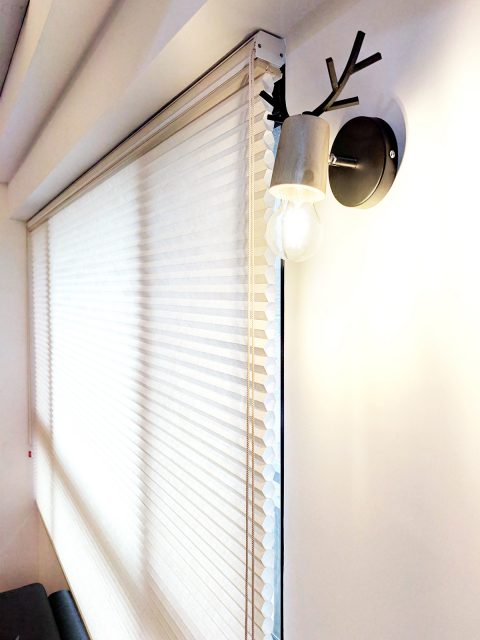 To differentiate the warm and yellow wooden colors in the public area, the bedroom is presented in neutral gray and white colors.
Apart from wooden brown colors and some touches, the rest of the bedroom remains its purity by using low chroma colors.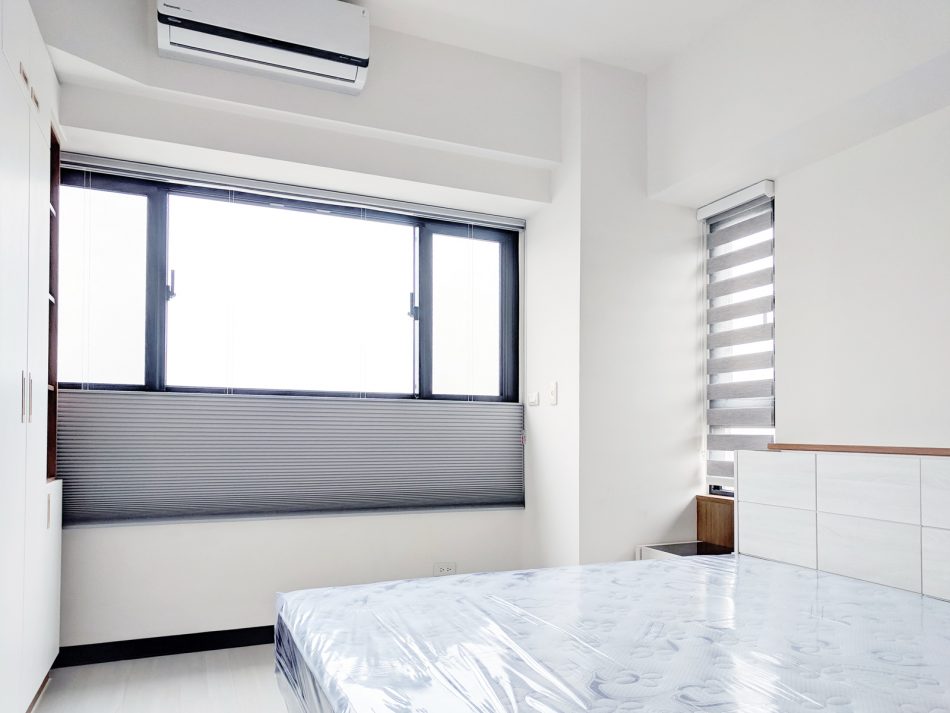 📍Blackout honeycomb shade
Honeycomb shade and double roller blind both have the flexibility to let in the amount of light. T
he big bedroom window is treated with blackout honeycomb shade, top down-bottom up system. To achieve the highest shading effect, it is coated with inlaid silver coating for complete block-out of outdoor light.
The small window next to the bed is treated with a double roller blind.The design of two clothes juxtaposed with each other creates more variations of indoor illuminations.
Whenever you need a sound sleep or are spirited for activities or work, light-regulating blinds are the best assistant to balance your needs in life.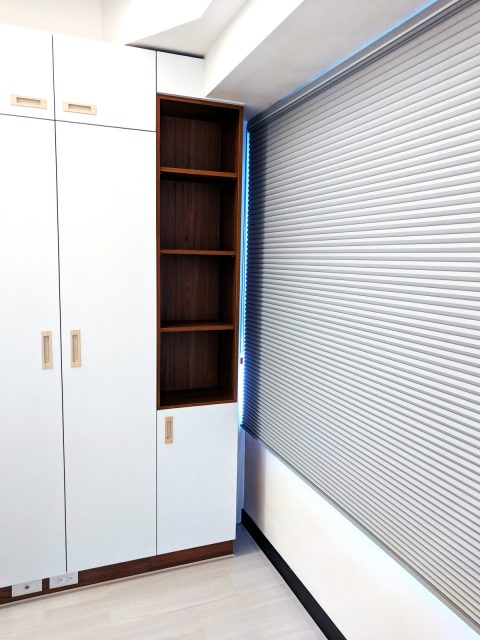 .
---
📍Q&A📍
Q1. What is standard honeycomb shade? What is Top-Down Bottom-Up System?
The basic operation system of honeycomb shade is bottom-up.Top-Down Bottom-up system includes another operation, which the middle rail can be moved upward or downward and stopped at the position preferred.
It adds more flexibility on shading area and keeping privacy.
Q2. How to operate Top-Down Bottom-Up honeycomb shade?
【Cord】
Pull cord to adjust the height of the shade. There are two cord systems: Pulling cord and Cord loop.
【Cordless】
Bare hands: Move the middle rail or bottom rail with bare hands to adjust the position of shades.
Motorization: Use a remote control to make the middle or bottom rail move
▲ Pulling Cord & Cordless (Eng. subtitle)

▲ Cord Loop (Eng. subtitle)
Q3. Size range of honeycomb shades?
【Cord】
Bottom-up:Within W 20~300cm x H 360cm
Top-Down Bottom-Up:Within W 45~300cm x H 360cm
【Cord loop】
Bottom-up:Within W 35~300cm x H 300cm
Top-Down Bottom-Up:Within W 57~300cm x H 300cm
【Cordless】
Bottom-up:Within W 25cm~240cm x H 210cm
Top-Down Bottom-Up:Within W 55~240cm x H 210cm
【Motorization】
Bottom-up:Within W 71~300cm x H 300cm
Top-Down Bottom-Up:Within W 100~300cm x H 300cm
🏷There are more choices than "Bottom-Up" and "TDBU". The systems can be upgraded to motorization and "Day & Night" shade.
---
▶︎ Vali Honeycomb Shade-Light-filtering- Onion.Blackout- Gray Sheen
Customizable within W 300cm × H 360cm
Cord Loop/Top Down-Bottom Up System(Shade can be stopped in the middle area)
▶︎ Sima Double Roller Blind-Linen Grey
Customizable within W 250 cm × H 300 cm
Delicate type: Metallic Upper Cover bundle, can prevent dust and decorate the outlook.
▶︎ Jivi Cushion- Geometric Pattern-Prism
W 45 cm × H 45 cm
Fine cotton material, various colorful geometric patterns
---
【Your best assistant to customize your blind or shade- Maison Boutique】

We Offer International Delivery Across the Globe at MSBT.com
You could enjoy our doorstep service at TAIWAN. Service area: Taipei City, New Taipei City, Keelung, Taoyuan, Hsinchu, Miaoli, Taichung, Tainan, Kaohsiung, Pintung City. Online Orders are not limited. There will be international shippings fees for international orders.
▌English Official Website
▌Customer Service Email
▌Facebook
▌Instagram
▌LINE
E-commerce leading window covering brand- MSBT Maison Boutique seeks modern aesthetics for personalized space and provides professional customization services on roller blinds, zebra blinds, venetian blinds and honeycomb shades.